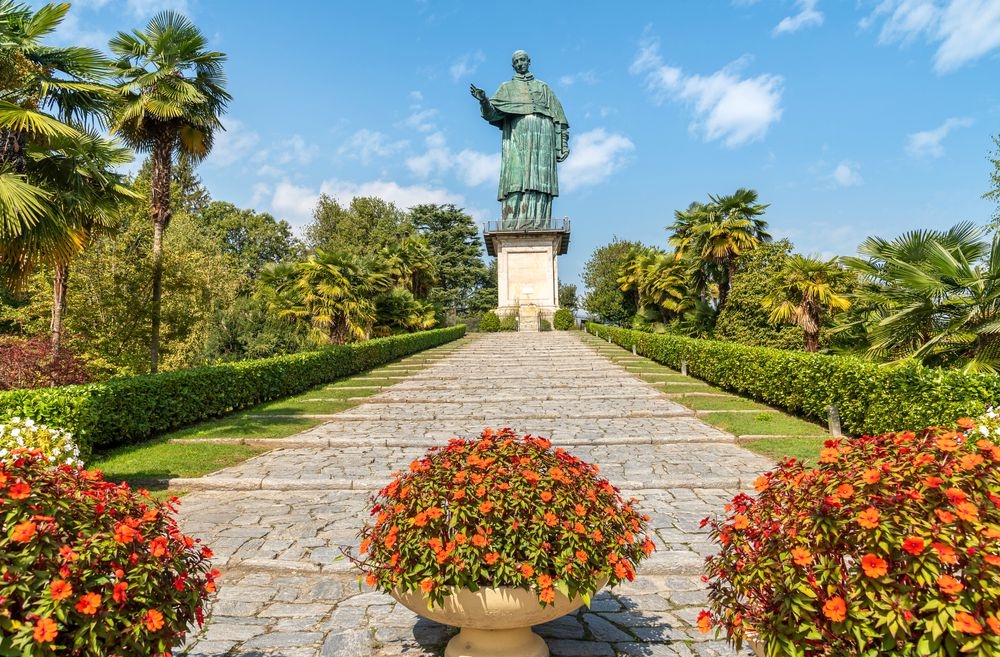 Fun and culture, Arona format. The symbol of Arona is undoubtedly the Sancarlone (or Sancarlòn, as they say here), the extra-large statue dedicated to San Carlo Borromeo, archbishop of Milan in 1535, and a prestigious fellow citizen: it is 33 meters high and was built in the early 1600s. in copper and granite, on the Sacro Monte di Arona, where there is one of the most fascinating views of the city.
Religious and tourist destination, you can get there from Piazza del Popolo, in the center of Arona, in a few minutes by car or a little more if you opt for a nice path that climbs up from the Rocca. Two iron stairs allow access to the inside of the statue, up to the head which can accommodate up to six people.
To see in Arona the Rocca Borromea, in one of its most spectacular points, with an impressive view of Lake Maggiore, but also of the entire Lombard coast with the castle of Angera, of which she was built in the year one thousand probably by the Lombards , is a kind of twin. Now the ruins that still remember its grandeur are inside a park, a green oasis not far from the lake, where there are animals and a botanical path.
Turning around Arona, in every corner it is possible to admire the suggestive panorama of this part of Lake Maggiore, for example, in Corso Repubblica between banks, offices, prestigious shops, hotels, bars and restaurants, just raise your eyes to be struck by the Rocca di Angera. Also from Corso Cavour, a pedestrian area, in every where streets start from here to get to the lake, among other wonderful views, and you can meet the Sancarlino, a wooden statue of 1630, the original of which is preserved in the Town Hall.
In the area, the eighteenth-century Church of Santi Anna e Gioacchino, with a nineteenth-century facade, a mix of almost rational styles. A particular square is the one dedicated to San Graziano, where there was a Benedictine abbey, a place called Protolivo, because the monks (also) cultivated olive trees there.
Here you can visit the Archaeological and Mineralogical Museum in the rooms that were once used as a covered market. A stop for the Church of Santi Martiri or San Graziano, from the 10th century but with a Baroque facade with a Gothic interior. The Collegiate Church of the Nativity of the Virgin Mary, the parish church of Arona, dates back to 1488: among the many other works it conserves, there are the paintings by Pier Francesco Mazzucchelli known as Morazzone and the sixteenth-century Polyptych of the Nativity by Gaudenzio Ferrari.